INTRODUCTION TO DRAG RACING AND BRIEF BACKGROUND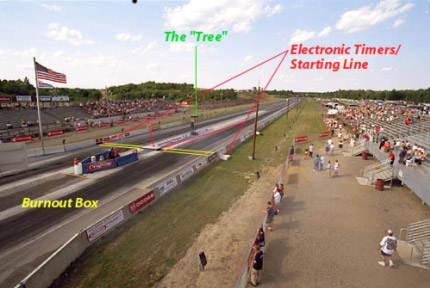 If ever a sport was destined to be full of record breakers, Drag racing is that sport. Constant technological and mechanical progress has enabled it to develop and obtain quicker and quicker times.
Created by American Hot Rodders of the late 1940's and early 1950's, It was encouraged to grow by police forces attempting to stop young drivers from racing on the street. The first drag races in Australia were held in Melbourne in 1956 and in Sydney in 1957, at an old air strip. Drag racing has progressed from an outlawed pastime to a fully-fledged motor sport boasting more than half a million competitors worldwide.
Drag racing caught on in New Zealand in the mid 1960's with the laying of the first permanent tarsealed track at Meremere in 1973.
There are four A grade Tracks in New Zealand which are able to run a Supercharged and Fuel injected vehicle like our dragster.
These tracks are Champion Dragway at Meremere, Lakeside International Dragway at Taupo, Masterton Motorplex at Masterton, and Ruapuna Dragway at Christchurch. There are also B Grade Tracks at Tokoroa, Nelson and Invercargill.
The association that controls the sport of Drag racing in New Zealand is The New Zealand Drag Racing Association Inc. NZDRA determines the class requirements and safety regulations for all the vehicles that compete at Drag Racing events in New Zealand. The executive members of NZDRA are representatives of Track promoters, Drivers and Drag racing clubs
The incredible thunder and vibration of two high horsepower race cars launching at several G - of acceleration. The spectacle of two dragsters bending against the down force in a struggle to keep all four tyres on the ground at several hundred mph. That's Drag Racing. But to fully appreciate the world's fastest motor sport, it helps to know the basics
A drag race is an acceleration contest from a standing start between two vehicles over a measured distance. The accepted standard for that distance is either a quarter-mile (1320 feet) or an eighth-mile (660 feet). A drag racing event is a series of such two-vehicle, tournament-style eliminations. The losing driver in each race is eliminated, and the winning drivers progress until one driver remains, or a round robin style where winners of previous rounds race against winners and losers race against losers on a loser return system
These contests are started by means of an electronic device commonly called a Christmas Tree because of its multi-coloured starting lights. On each side of the Tree are seven lights, one small blue and one small white at the top of the fixture, followed in descending order by three larger amber bulbs, a green bulb, and a red bulb.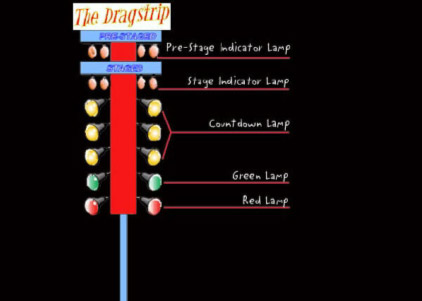 Two light beams cross the starting-line area and connect to trackside photocells, which are wired to the Christmas Tree and electronic timers in the control tower. When the front tyres of a vehicle break the first light beam, called the pre-stage beam, the pre-stage light on the Christmas Tree indicates that the racer is approximately seven inches from the starting line.
When the racer rolls forward into the stage beam, the front tyres are positioned exactly on the starting line and the stage bulb is lit on the Tree, which indicates the vehicle is ready to race. When both vehicles are fully staged, the starter will activate the Tree, and each driver will focus on the three large amber lights on his or her side of the Tree.
Depending on the type of racing, all three larger amber lights will flash simultaneously, followed four-tenths of second later by the green light (called a Pro Tree), or the three bulbs will flash consecutively five-tenths of a second apart, followed five-tenths later by the green light (called a Full Tree).
Two separate performances are monitored for each run, elapsed time and speed. Upon leaving the starting line, each vehicle activates an elapsed-time clock, which is stopped when that vehicle reaches the finish line. The start-to-finish clocking is the vehicle's elapsed time (e.t.), which serves to measure performance. Speed is measured in a 66-foot "speed trap" that ends at the finish line. Each lane is timed independently.
The first vehicle across the finish line wins, unless, in applicable categories, it runs quicker than its dial or index. A racer also may be disqualified for leaving the starting line too soon, leaving the lane boundary (either by crossing the centerline, touching the quardrail, or striking a track fixture such as the photocells), failing to stage, or failing a post-run inspection.
Paired races can take from 20 seconds to as little as 4.5 seconds to cover the standing quarter mile, and pairs of race cars run down the track as frequently as every 40 seconds, ensuring a continual flow of racing for spectators. The entire track, from start to finish line is (or should be) visible from the spectator area.
One of the most popular meets are the Street meets, which competitors need only have a current drivers license, a crash helmet and seat belt, and to put their vehicle through a basic safety check, They can compete at Grudge meets, where they can race against their friends or just attempt to improve their previous performance standards, or at Bracket meets, Night war meetings which are run on Friday nights where there is a range of performance related categories with an elimination process and a winner or winners at the end of the meeting. These simple accessibility makes Street meets very popular, and they can attract in excess of 150 competitors and several thousand fans and friends to watch them race. Such events can be staged with little organization and are frequently run on Friday nights or Sundays.
At the more professional level specially constructed vehicles compete. These can range from modified production sedans and bikes, children racing Junior dragsters, up to Dragsters and Funny cars powered by engines producing as much as 6000 horsepower and capable of covering the standing quarter mile in as little as 4.5 seconds, achieving speeds of up to 330 mph (approx 530km/hr) by the finish line. Such events are widely popular attracting large crowds of spectators to watch a days racing.
Drag racing is family oriented - there are few gender or age barriers. Participation can take place from as young as six years of age, and many internationally well known drivers continue to race at even the highest levels of the sport into their late 50s and 60s. There is a driver of a Top Fuel dragster in the USA in his mid -70s. Women also are able to participate at all levels, and there are many more women in drag racing than in any other form of motor racing. Drag racing does not require the endurance and strength aspects that are significant factors in other forms of motor sport, and this evens the field out. There are many family-based teams in which the husband tunes the car and the wife drives.
Drag racing is closely allied with a range of other recreational motoring activities. These include Street Machining, Hot Rodding, the Japanese import car scene and similar pastimes. This gives drag racing a wide potential market reach, accounting for much of its popularity, and a capacity to extend its venues to a diversity of other marketable activities.
NEW ZEALAND DRAG RACING CLASSES
New Zealand Drag racing classes are split into four groups, and each group has its own racing format (heads up, DYO, index).
Group One
Classes that make up group one are Top Alcohol, Top Door slammer, Outlaw Super Stock. Group one is unforgiving fast or last racing, Competitors leave the start line together (Heads up) and the winner is the first to cross the finish line. These classes are run only at National events.
| | |
| --- | --- |
| Top Alcohol - New Zealand's premier class Of the country's quickest Supercharged methanol-burning Dragsters, Altereds,And Funny cars. Low to mid six-second passesare the norm. | |
| | |
| --- | --- |
| Top Doorslammer - is intended for the ultimate In Nitrous Oxide, or Mechanically Supercharged Engine vehicles retaining the appearance of full-bodied streetcars with opening doors. Mid to high Six second passes are the norm. | |
| | |
| --- | --- |
| Outlaw Super Stock - are stock based and while Some modifications are permitted they must retain The appearance of exterior head and tail lights at a Minimum. These vehicles may be single 4 BBL Naturally aspirated or nitrous assisted. | |
Group Two
Classes that make up group two are Competition, Top Street, Sport Compact, and Competition Bike. Competitor's race governed by their class "index" which is the current National record. Similar to DYO racing, however racers are permitted to go quicker without losing. Winning is based on having an E.T. closest to or farthest under ones own index in comparison to every other competitors index and E.T.
| | |
| --- | --- |
| Competition - This division incorporates the Classes of Dragsters, Altereds (based on roadsters, Topolinos, etc) and Funny cars, all running against Their individual class index's. | |
| | |
| --- | --- |
| Top Street - The Top Street division represents Race prepared but street-appearing vehicles and as such must retain that overall concept, stock or replica production body required, with Classes for V8s through to six-cylinders, fours and rotaries. | |
| | |
| --- | --- |
| Sport Compact - encompasses the Pro Import And Sport Mod classes, for any four, six or rotary Production engine import vehicle. This is probably the easiest to follow of all the index categories, having only the two classes. | |
| | |
| --- | --- |
| Competition Bike - rounds out the index racing divisions and incorporates its own collection of motorcycle classes of Drag bike, Push Rod Competition bike, Pro Stock bike, and Street bike. | |
Group Three
Classes that make up group three are Modified, Super Sedan, Super Street, Junior Dragster, and Modified Bike. All divisions run a dial-your-own (DYO) format which means that each racer will nominate his/her own dial-in. These divisions require smart reaction times and very consistent driving as going too quick will mean a loss.
| | |
| --- | --- |
| Modified - Vehicles running in modified are similar to those in the Competition division, altereds, Dragsters, and Funny cars, with pre-1932 hot rods also eligible. All running on a self nominated dial-your-own (DYO)handicap. | |
| | |
| --- | --- |
| Super Sedan - This division caters for a wide range of sedan-based vehicles. Seating position must be left or right of the centre line (Pre 1932 Hot Rods run Modified) Permitted to run drag slicks Vehicles run on a self nominated dial-your-own (DYO) handicap of 11.00 seconds or quicker. | |
| | |
| --- | --- |
| Super Street- This division caters for a wide Range of sedan-based vehicles. Seating position must be left or right of the centre line.(Pre 1932 HotRods run Modified) Cousin to Super Sedan.Vehicles run on a self nominated dial-your-own(DYO) handicap of 11.00 seconds or slower and are generally warranted and registered. This bracketruns under the winter meetings under the name of sportsman racing. | |
| | |
| --- | --- |
| Junior Dragster - This division is intended to cater for competitors between the ages of 6 and 16 years.Racing near replicas of dragsters over a maximum distance of 1/8 mile. Vehicles run on a self nominated dial-your-own (DYO) handicap system, where thebreakout system is used. | |
| | |
| --- | --- |
| Modified Bike - This division is open to all bike Classes including street legal motorcycles. Bikes runOn a self nominated dial-your-own (DYO) handicap System, where the breakout system is used. | |
Group Four
The only class making up this group at the moment is Super Gas. This division runs on a heads-up start with competitors running the same fixed index of 9.90 seconds. This fixed index is set by the New Zealand Drag Racing Association.
Similar fixed index's are 10.90, 8.90 and 7.90. This division requires competitors to have very sharp reaction times and consistent driving as going too quick or too slow will mean a loss.
| | |
| --- | --- |
| Super Gas - Class has a heads-up start with competitors running the same fixed index of 9.90 seconds, with a loss for going quicker.Competitors compete in full-bodied vehicles and open wheel centre steer altereds, dragsters and roadsters. | |
Exhibition Class
Any vehicle which does not fall into any of the previous classes, will be allowed to run as exhibition. This class also caters for vehicles being used for other than Drag Racing purposes.
| | |
| --- | --- |
| Jet Powered Dragsters and Funny Car-Vehicles driven by pure thrust of jet engines. Although an all-out competition category does not exist for jet powered thrust vehicles, such vehicles are a popular feature at drag strips in the exhibition class. | |
| | |
| --- | --- |
| Wheel Standers - Vehicles specially made so that the front of the vehicles come up off the ground and cover the ¼ mile from the start line to the finish line in contact only by the rear wheels. Although an all-out competition category does not exist for this class of vehicle, such vehicles are a popular feature at drag strips in the exhibition class. | |
| | |
| --- | --- |
| Top Fuel Dragster - Fuelled by fire breathing, 7000 horsepower engines these 25 foot landlocked dragsters are the fastest accelerating vehicles in the world, capable of covering the quarter-mile in 4.4 seconds at more than 330 mph. | |
| | |
| --- | --- |
| Top Fuel Funny Car - Cloaked in carbon-fibre bodies that loosely resemble production cars, these front- engined brothers to Top Fuel dragsters travel the quarter-mile in 4.6 seconds at more than 330 mph. | |