Price Motorsport is a Partnership between Twin Brothers Greg and Malcolm Price. The partnership was formed to enable the construction and racing of a Rear Engined Dragster in 1986. Prior to racing Dragsters they had spent several years racing Hot Rods on Drag Racing Tracks around New Zealand. The Price Motorsport Team consist's of One Top Alcohol Dragster being driven by Malcolm and Greg Price and four Junior Dragsters being driven by Kieran Price, Ryan Phillips, Cameron Prime and Aaron Phillips.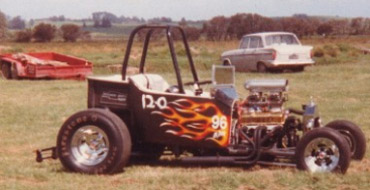 Greg constructed a 1923 Ford T - Bucket named "Wildfire" which first appeared at a Drag Strip in December 1981. This vehicle was raced with a 370 Chevy V8 in the B/Hot Rod class for the 1982/83, 1983/84, 1984/85, and 1985/86 seasons. The name "Wildfire" was given to it because of its Metallic Black with Traditional flames paint scheme. The car became the New Zealand National Title holder for the Hot Rod Eliminator in the 1985/86 season. Wildfire achieved an E.T. of 10.3 seconds at 127 m.p.h. and is still in complete trim and was retired to the garage in 1986 and occasionally sees a drive around the streets.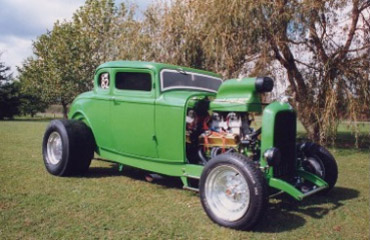 Malcolm constructed a 1932 Ford Coupe named "Kermit", which first appeared at a Drag Strip in October 1983. This vehicle was raced with a 302 Chevy V8 in the C/Hot Rod class for the 1983/84, 1984/85, 1985/86, 1986/87, 1987/88, and 1988/89 seasons. The name "Kermit" was given to it because of its bright Lime Green Paint which was applied and the Frog Painted on the Boot. The Car became the New Zealand record holder for the C/Hot Rod class at 10.3 seconds at 127.47 m.p.h. Kermit is still in complete trim and was retired to the garage in 1989 after a farewell tour of all Drag strips in New Zealand. It is remembered by competitors and Fans as one of New Zealand's quickest Hot Rods. It occasionally sees a drive around the Streets.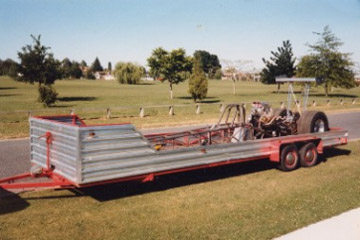 Those days of Hot Rod racing were over and the decision was made to pool resources for one car . They settled on a Alky Smallblock Chev Dragster and went about constructing a state of the art frame. Taking the finished and painted chassis home from the Paint shop in January 1987, disaster struck. A truck ran into the rear of the trailer and up and over it, destroying the dragster chassis, the trailer and writing off the towing vehicle, Ironically it was the 13 th January.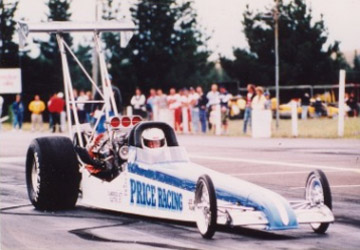 They completed construction of their second rear Engined Dragster in 1989 which on its first full pass on the Drag Strip broke the New Zealand record for the BB / Dragster class. Everyone was amazed at the quality of the car, leaving no doubt that this was the most outstanding detailed race car ever seen in New Zealand. And it soon proved it's go was as good as it's show, becoming the fastest and quickest iron-block smallblock chevy ever in New Zealand. That performance was almost 2/10 ths quicker than the record for the equivalent class in Australia. The Dragster was then campaigned in the Top Alcohol Eliminator with great success achieving e.t's of 7.20 seconds at 193 m.p.h. But with the urge to go faster the Dragster was sold in 1994.
After a short break the team crewed on their previous dragster and assisted the new owner to run the dragster until it was sold. During this time they built two Junior Dragsters and commenced construction of their third rear engine Dragster which was completed in 2002.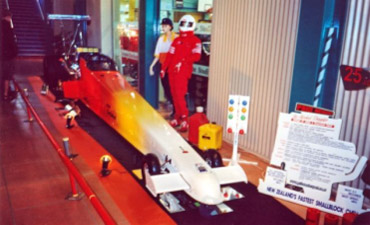 The show of this Dragster is as impressive as it's go. It obtained First place in Competition Race car and First place in Competition Engine at the New Zealand Hot Rod Association 2002 National Hot Rod Show held in June 2002.
On the 2 nd January 2003, history was made with the current Dragster being the first Smallblock Chev engine to run a 6 second pass on any Dragstrip in New Zealand. The first pass in the Dragster was a 6.89 second E.T. @ 186 mph and Malcolm lifted his foot because it had to be a ½ track pass for licencing purposes. The second pass resulted in a 6.79 second E.T. @ 188mph with lifting the throttle again at 2/3 track. These two passes reset the National BB/Dragster record to 6.89 seconds. This record has now been reset to 6.729 seconds @ 199.73 mph.
On the 16 th February 2003 at the New Zealand Drag Racing Association 35 th Drag Racing Nationals the Team became the 2003 Top Alcohol National Champions running e.t.'s of 6.46 seconds , 6.47 seconds and 6.46 seconds at 208.84 mph, 209.07 mph and 208.17 mph.
In the words of Peter 'PC' Callen from New Zealand Rodder Magazine he writes, "It stands to reason that seasoned drag racers with much experience in the workings of tough smallblocks, who are looking to up the ante, are going to come out with all cylinders blazing when they build a new weapon. Not only do Greg and Malcolm build tough smallblock chev's they do it with a meticulous approach that culminates in cars that are always a cut above the norm. Case in point: this stunning new dragster! Gleaming from end to end and as fresh as they come the car is a brilliant showcase of the twins talents.
American Top Alcohol father and son competitors George and Rick Santo's help with engine development has been much appreciated. They have achieved a Top Ten Placing in America for the past 15 years in the Top Alcohol Dragster Class. Having won the American Top Alcohol Dragster Championship in 1997, 1998, 1999, 2000, and 2001, and Rick is the winningest Driver in NHRA Pro Sportman Dragster class history having achieved 36 career NHRA National wins.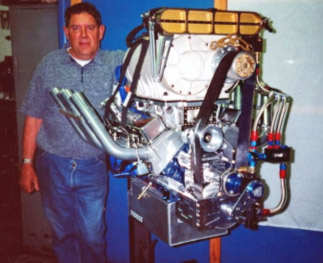 Jim Carlyle of Cambridge Engine Services is our engine machinist and builder and has worked with the Team since we commenced running Supercharged and Fuel injected engines. Jim has obtained great success with building engines for Stock Car, Saloon Car, Speedway, Hydroplane boats, Jet boats and Tarseal Race Car Engines for many years.We have retained a very valuable crew who have worked together for many years, some since the first day we went Drag Racing, and are prepared to put in the personal commitment to succeed.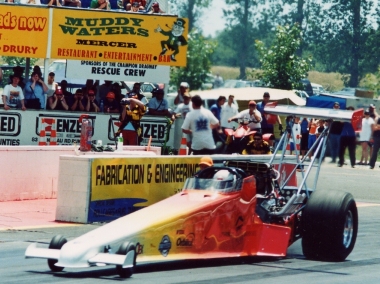 Price Motorsport work closely with sponsors to ensure regular exposure for the Dragster and all their associated sponsors and supporters. Expect to see us at Trade shows, Car shows, Motorsport events, Hot Rod and Horsepower shows, regular sponsor evenings to allow sponsors staff and clients to get together and be informed of our progress. Regular updates to our web site on the Dragsters progress and achievements.